Manbat Farmers' Market at AUS supports sustainable living
News:
11 September 2023
American University of Sharjah (AUS) and Arada, a prominent real estate company in the UAE, have embarked on a partnership, launching the Manbat farmers' market at a ribbon cutting ceremony on September 7 on campus. The initiative supports the UAE's National Food Security Strategy 2051 in an era of increasing global challenges.
Not only will the weekly market bring fresh, locally grown produce to the AUS community, it will connect students, faculty and staff directly to the farmers who produce their food, emphasizing the importance of sustainable living.
A partnership between Arada and the Ministry of Climate Change and Environment that aims to promote healthy, home-grown produce, the first Manbat farmers' market was launched in Aljada in 2021. Manbat markets now take place every weekend at multiple venues across Dubai and Sharjah during the cooler months of the growing season.
The Manbat market grand opening at AUS was attended by Dr. Susan Mumm, Chancellor of AUS, Dr. Ray Tinston, Managing Director of Manbat and Director at Arada, Dr. Lisa Moscaritolo, Executive Director of Student Experience at AUS, and other senior officials from both institutions.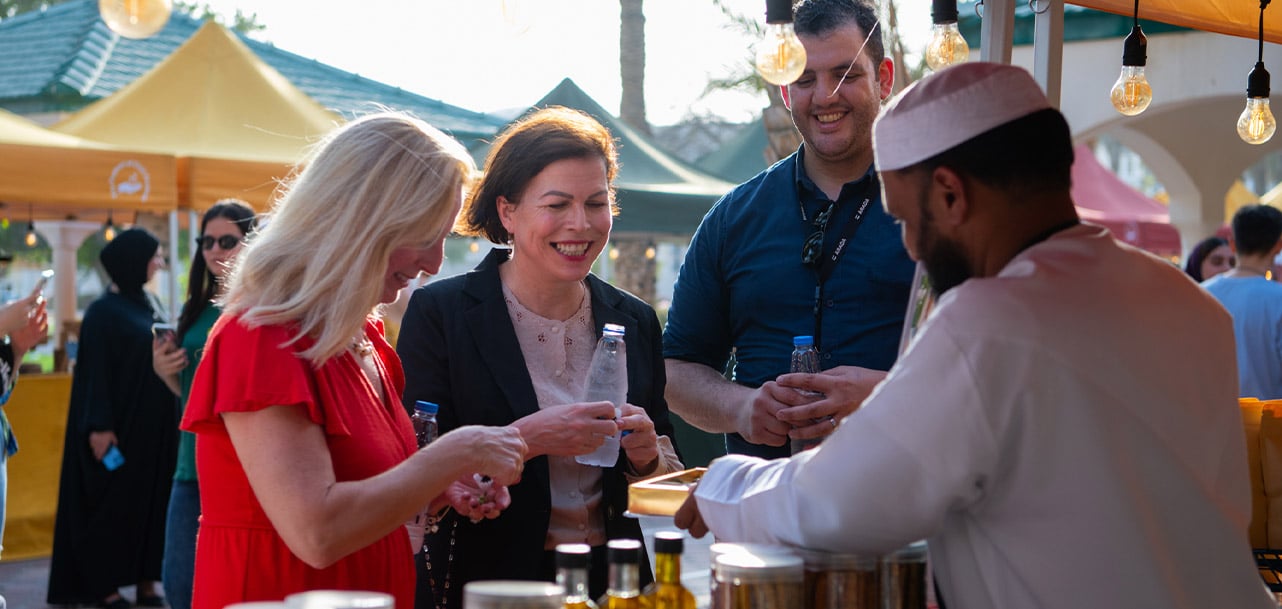 "In alignment with the UAE's visionary National Food Security Strategy 2051, the Manbat Market reflects AUS' unwavering commitment to experiential learning and sustainable practices, resonating with our ethos of fostering a resilient and conscious community. By uniting local vendors and our community, we're not only championing healthier food choices but also nurturing a sense of collective stewardship for our environment. This initiative stands as a testament to our dedication to promoting sustainability and aligning with the UAE's comprehensive approach to ensuring a sustainable and self-sufficient food system," said Dr. Mumm.
"We're delighted to bring the Manbat farmers' market to AUS, which is another step in Arada's longstanding partnership with one of the Gulf's most prestigious educational institutions. By introducing the freshest and most nutritious products to market, we are aiming to convince local buyers that 100% home-grown ingredients not only boost the UAE's long-term food security but are also great for the environment and your health as well," said Dr. Tinston.
By emphasizing health and wellbeing and aligning with the UAE's National Food Security Strategy, the Manbat Market underscores AUS' pledge to shape a greener, more interconnected future. As the AUS community connects directly with local farmers and revels in fresh, locally sourced produce, this initiative also underscores AUS readiness for the Conference of the Parties 28 and the collective impact of embracing locally grown products in reducing carbon footprints.
The Manbat market will take place every Thursday at AUS, from 5:00 p.m. to 9:00 p.m. AUS is dedicated to supporting the UAE's sustainability endeavors through robust initiatives and active faculty engagement. Recognized for its commitment, AUS is a valued member of the Universities Climate Network, uniting UAE-based institutions to foster dialogues, workshops, public events and youth involvement in preparation for COP28. AUS' commitment to reducing carbon emissions is demonstrated through its pioneering Climate Action Plan, which aligns with the UAE's Net Zero by 2050 strategic vision. AUS' unwavering support extends to being a key participant in the UAE Alliance for Climate Action (UACA), a domestic coalition orchestrated by Emirates Nature-WWF. This alliance assumes a prominent role as the flagship non-state actor program in the run-up to COP28, championing accelerated progress towards achieving net zero targets aligning with scientific principles and the Paris Agreement.