Artal – The New Home of Exquisite Emirati Fashion – Launches at Aljada's East Boulevard in Sharjah
News:
5 June 2023
First boutique opens in the presence of HE Sheikha Bodour bint Sultan Al Qasimi on May 31
Stunning location boasts some of the biggest names in Emirati fashion
Artal offers an extensive range of elegant statement pieces
Artal, a contemporary Emirati women's fashion brand, has launched its first boutique, which showcases a collection of eight popular local labels at a beautifully designed location on Aljada's East Boulevard in Sharjah.
Held under the patronage of HE Sheikha Bodour bint Sultan Al Qasimi, Chairperson of Sharjah Investment and Development Authority (Shurooq), the launch event incorporated a fashion show as part of a carefully curated occasion that brought together famous names from the UAE's fashion industry. 
Artal's diverse range of collections, from Abayas to dresses, presents a unique shopping experience for women from all walks of life, including students, mothers, entrepreneurs, businesswomen, teachers and many others. A multi-brand women's fashion boutique that reflects the elegance, craftsmanship, art, and design of Emirati fashion, it features eight Emirati fashion houses, offering a fair and balanced business model that empowers the talented designers and provides them access to the tasteful society of Sharjah. Designers include WaDubai, Basic Abaya, Takara, Shatha Essa, Pearla, Zahra Karmostaji, Dioraline and By Almuna.
Zainab Salem, Founding Manager, Artal, said: "We are thrilled to open the doors of Artal to our valued customers and offer them a unique shopping experience that celebrates the spirit and culture of the UAE through contemporary Emirati aesthetics. As an Emirati woman and passionate fashion designer, I understand the importance of showcasing and empowering UAE talents in the fashion industry. I am proud to be a part of Artal, which offers a space for Emirati fashion entrepreneurs to showcase their work and reach a wider audience and we are excited about what the future holds for this one-of-a-kind platform."
Each brand has its own unique style and vision, catering to all tastes and preferences, ensuring that every demographic is looked after, and that each customer can find the right style that matches their own. In a fashion segment where high-end UAE and expat consumers tend to purchase luxury apparel with established brand positioning, Artal targets female consumers who are drawn to labels that speak their aesthetic language and draw from their culture and traditions.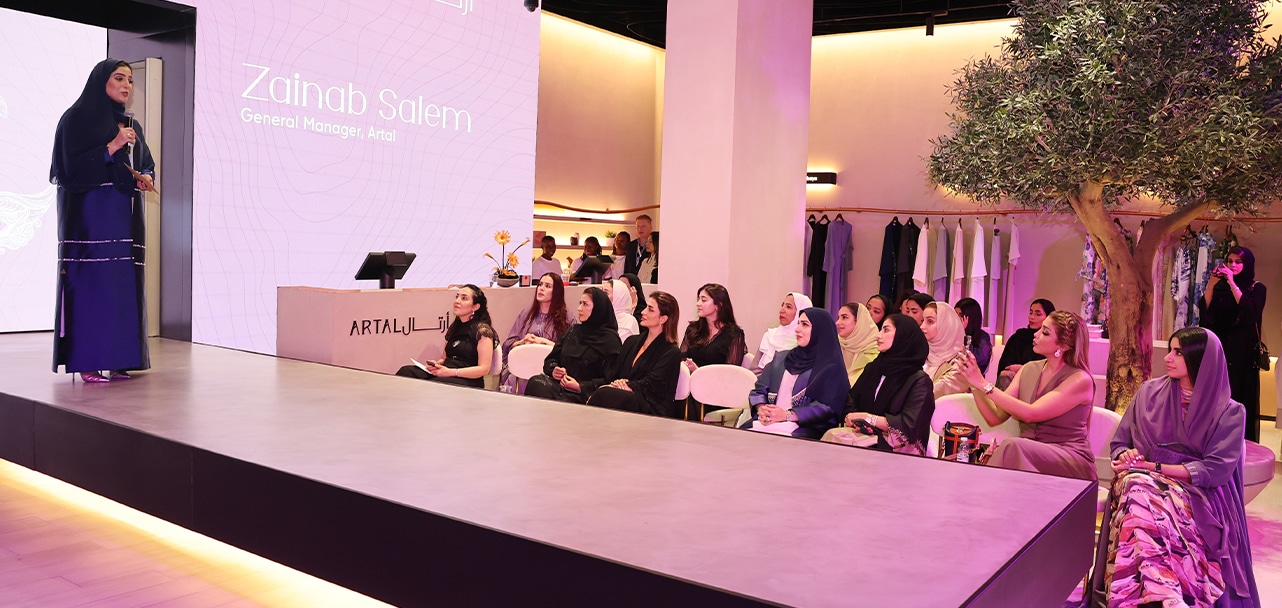 The retail space places women's sartorial needs at the forefront providing a distinctive shopping experience that caters to women of all backgrounds. Artal not only offers a wide variety of high-quality products but also adds convenience to clients' shopping experience by bringing everything under one roof. The store is a perfect destination for both Arabs and expats to discover the essence of Emirati fashion design, catering to diverse tastes and adding a touch of uniqueness to their everyday interactions.
Offering a wide range of fashion choices, including elegant evening wear, chic everyday outfits, and statement accessories, Artal is more than just a fashion boutique. It is a celebration of contemporary Emirati aesthetics that caters to all social classes of society. It brings together the best of Emirati designers under one roof and intertwines traditional elements with more modern techniques to create something utterly breathtaking. With both a physical and online presence, Artal connects immensely talented Emirati fashion houses with high-end consumers keen on modest, sophisticated, and attainable fashion.
Artal is located on East Boulevard, the 2.2km tree-lined avenue and popular retail and dining destination at the heart of Aljada, the largest residential and commercial destination in Sharjah.
Artal is a venture by Arada, the innovative master developer behind Aljada. Launched in 2017, Arada is one of the UAE's fastest-growing master developers, with AED33 billion of projects under development, including the Masaar forested community Jouri Hills at Jumeirah Golf Estates and the newly announced Armani Beach Residences Palm Jumeirah.
For more information and to stay up to date with all the upcoming developments related to Artal, please visit www.artalfashions.com.