Arada's landmark Home for a Home initiative honoured at 2023 Arabia CSR Awards
News:
10 October 2023
Enabled by homeowners and in partnership with The Big Heart Foundation and UNHCR, the 'Home for a Home' Ramadan initiative is recognized at acclaimed pan-Arab awards ceremony
Landmark initiative succeeded in providing large scale and effective support to refugees in Kenya with homes and safe, sustainable water supply
Arada's groundbreaking Home for a Home CSR initiative was recognised last week at 16th Arabia Corporate Social Responsibility (CSR) Awards, which was organized by the Arabia CSR Network earlier this week at the Anantara Downtown Hotel in Dubai.
The awards, held under the patronage of H.H. Eng. Sheikh Salem Bin Sultan Bin Saqr Al-Qasimi, Chairman of the Ras Al Khaimah Civil Aviation Department and Member of the Executive Council of the Government of Ras Al Khaimah, celebrates CSR sustainability champions from across the Arab world.
Arada's Home for a Home initiative, which took place in partnership with The Big Heart Foundation and UNHCR, was honored in the highly contested 'Partnerships and Collaborations' category, along with strong institutions and corporations including Abu Dhabi Police General Headquarters, Saudi Arabian Mining Company (Ma'aden) and Omani non-profit Jusoor.
Running for the last two years, Home for a Home has seen Arada and its partners commit to building a home in the Kalobeyei refugee settlement in Kenya for every home sold at the Masaar master community in Sharjah during Ramadan.
The initiative has resulted in the delivery of 407 family homes, which can accommodate over 2,000 refugees, with a further 350 homes on the way. It also included the development of water supply infrastructure that supports up to 43,000 people at the settlement, which is managed by the UNHCR, in collaboration with Kenyan authorities.
Following the gala awards, the Arabia CSR Network held its 10th Arabia CSR Forum under the theme "Unlocking Sustainable Transformation: Breaking Barriers, Creating Solutions", where Arada's partnerships model with The Big Heart Foundation and UNHCR was highlighted as a successful case study to show how CSR efforts can be coordinated to achieve greater impact and scale.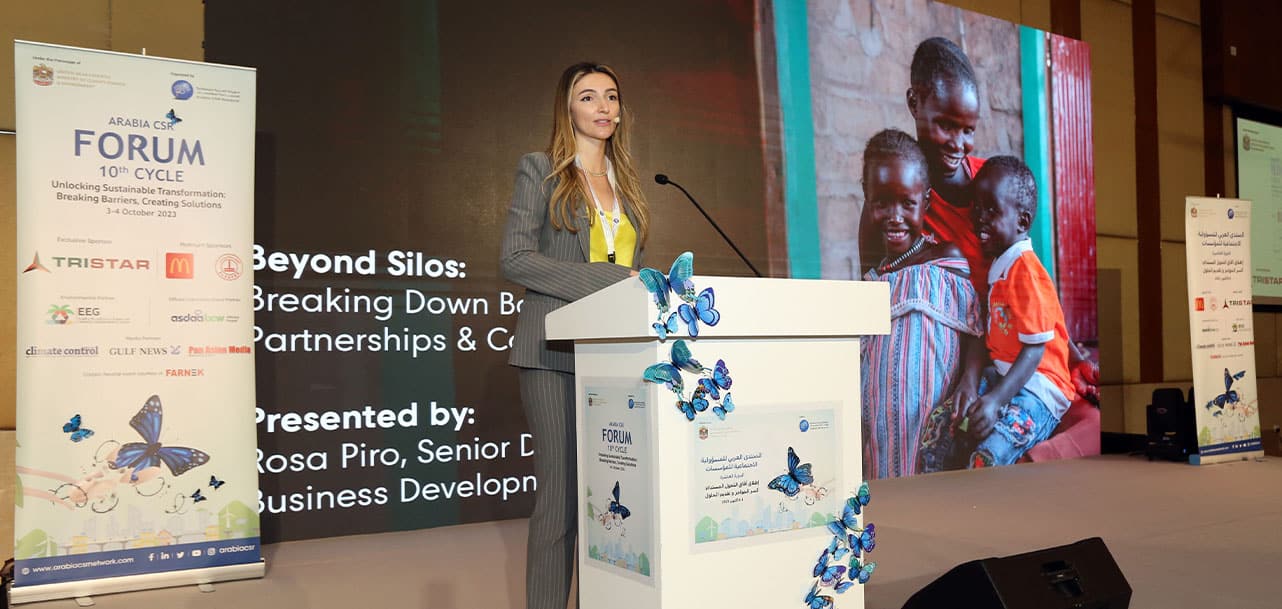 Speaking at the Arabia CSR Forum, Rosa Piro, Senior Business Development Director at Arada said: "As a performance-driven and people-focused company, we've looked for partners that can bring credibility and effectiveness with the ability to verify the social impact. Partners that can provide resources, insist on accountability and encourage wider participation from a wide audience. I'm delighted to see that the Home for a Home initiative has secured wider recognition for its success and would like to thank Arabia CSR Network for their important contribution to this valuable space."
The Arabia CSR Network is a professional multi stakeholder organisation established in the UAE in 2004. The platform promotes, encourages and recognises responsible business practices through a range of services and offerings, including trainings, research and best practice, advisory services, third party assurance and a Pan-Arab acclaimed award initiative known as the Arabia CSR Awards as well as a biennial intellectual platform to discuss on the latest in the sustainability arena known as the Arabia CSR Forum.