Arada relaunches 'Home for a Home' Ramadan initiative to continue building homes for refugees in Kenya
News:
23 March 2023
CSR programme in partnership with The Big Heart Foundation and UNHCR
A home will be built in Kenya for every home sold at Arada's Masaar master community during the Holy Month
Initiative last Ramadan succeeded in supporting vulnerable refugee community with homes and safe, sustainable water supply
Arada has today relaunched its landmark 'Home for a Home' Ramadan campaign to provide further housing for the vulnerable refugee population at the Kakuma camp in the Kalobeyei settlement in northern Kenya. The social responsibility initiative will build a family home at the camp for each home that is sold during Ramadan at Masaar – Arada's woodland community in Sharjah.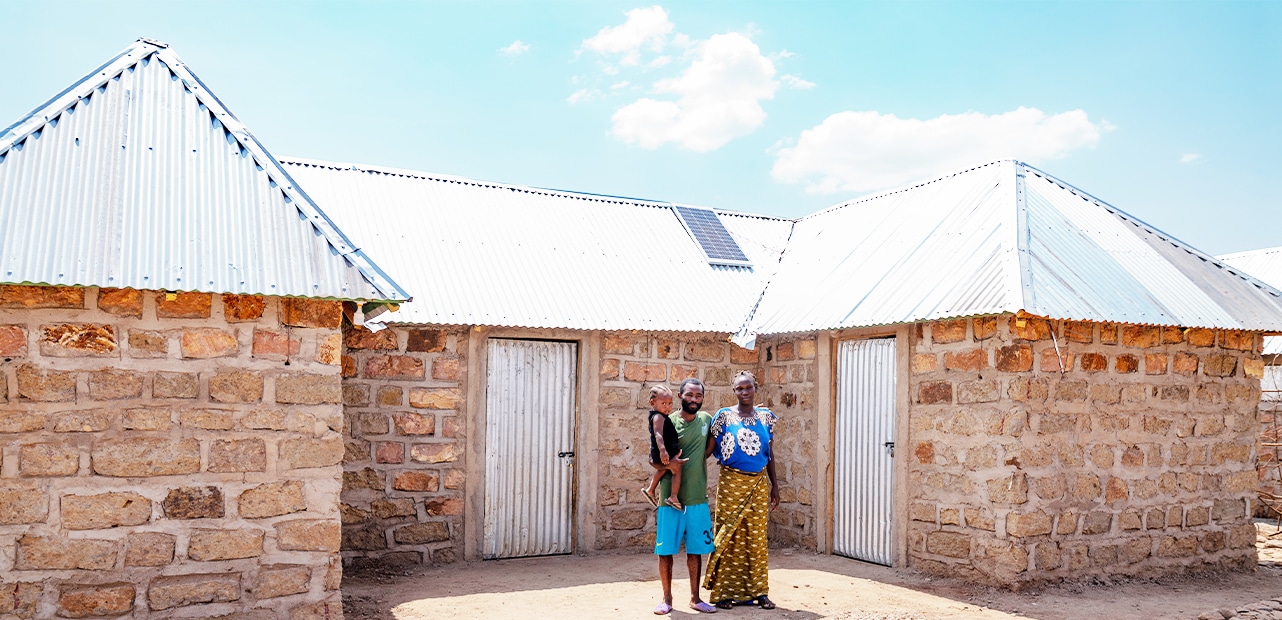 A first-of-its-kind initiative when launched last year, Home for a Home stems from a partnership signed between Arada and The Big Heart Foundation (TBHF), a UAE-based global humanitarian organisation dedicated to helping refugees and people in need worldwide, and the UNHCR, the United Nations Refugee Agency.
Last Ramadan's inaugural initiative resulted in the construction of 407 family homes which now accommodate over 2,000 refugees from Sudan, Ethiopia, Burundi, Republic of Congo, Rwanda and Uganda. It also included the development of water supply infrastructure that supports up to 43,000 people at the Kakuma camp, which is managed by the UNHCR, in collaboration with Kenyan authorities.
Earlier this month, HH Sheikh Sultan bin Ahmed Al Qasimi, the Humanitarian Envoy of The Big Heart Foundation and Chairman of Arada, visited Kenya and inspected projects at the Kakuma refugee camp, where he met with the camp's administration and officials.
Commenting on the launch of the second edition of the 'Home for a Home' initiative, Ahmed Alkhoshaibi, Group CEO of Arada, said: "We are gratified by last year's impactful campaign that positively supports the lives and dignity of thousands of refugees and contributes significantly towards the socioeconomic conditions of the host community. We are deeply appreciative of our partnership with The Big Heart Foundation and the UNHCR, and we feel privileged to have the opportunity to reflect the UAE's humanitarian values and principles in our efforts to support those in need."
Mariam Al Hammadi Director of The Big Heart Foundation (TBHF), said: "By providing lifesaving aid, we not only offer immediate relief, but also pave the way for long-term resilience and self-sufficiency. Through our 'Home for A Home' program, we aim to empower vulnerable communities and help them regain their independence. As part of Arada's Ramadan campaign, we're excited to announce our continued support for the Kakuma camp, where we'll be focusing on sustainable solutions and capacity-building initiatives. Our goal is to create a lasting impact that goes beyond temporary aid and truly transforms lives for the better."
UNHCR's Chief of Private Sector Partnerships for MENA Region, Houssam Chahine said, "We are grateful for the generosity that continues to provide shelter support to refugee families in Kalobeyei settlement, Kenya. It is increasingly essential to not only meet emergency needs, but to provide sustainable solutions to secure a better future for refugees and this initiative is an excellment example." The development that houses refugee families at the camp is also being developed as an urban centre, using standard planning techniques used for cities. This allows both the refugees and the host community to benefit from a series of measures including investment in basic infrastructure, access to social services, and increased opportunities for income-generating activities.