Olympics superstar Keegan Palmer signs up as Aljada Skate Park Ambassador
News:
26 April 2023
Tokyo 2020 gold medalist agrees long-term partnership with Middle East's largest skate facility
Athlete flies into UAE ahead of weekend of skate clinics and exciting competitions
Arada has signed a long-term partnership with Olympic gold medalist Keegan Palmer as interest in skateboarding continues to grow across the Middle East. The agreement will see one of the sport's biggest superstars continue in his role as Ambassador of Aljada Skate Park, the region's largest and most creative skate park, until 2028.
Keegan is currently in the UAE ahead of an exciting weekend of skateboarding action that's scheduled to take place at the Aljada Skate Park, including masterclasses and competitions.
On Friday 28 April, Keegan will be teaching a masterclass for beginners from 7pm and for intermediates from 8pm. Anyone wishing to take part in these free classes should register here, although space is strictly limited.
On Saturday 29 April, a full Street competition will be held, while on Sunday 30 April, a full Park competition will be held. Both competitions start from 6pm, with generous prizes and giveaways on offer for those taking part.
Keegan Palmer, Aljada Skate Park Ambassador, said: "It's been great to see how Aljada Skate Park is already playing a huge role in the development of this sport across the Middle East. I'm really proud to have played a role in the design of this awesome complex and am excited at the chance to help turn Aljada and Sharjah as iconic global venues for skateboarding."
Ray Tinston, Director of Events at Arada, said: "Keegan is not only a great athlete but the perfect role model for this fast-growing sport here in the region. We look forward to working with him to build on the huge impact that skateboarding has already made in the UAE in 2023, thanks to the world-class facilities we have here in Aljada."
Steve Baldas, CEO of W Sports and Media which manages Keegan said "We are delighted to work with Arada on this exceptional multiyear deal with Keegan. Arada continues to redefine living in the UAE, and they should be commended for identifying Keegan as the perfect strategic partner in their goal to do so."
Spread over six separate parks that include Olympic-level Street and Park sections complete with two 3.3m deep ends, Aljada Skate Park is located in the Aljada urban district, Sharjah's largest ever project, which is being developed by Arada.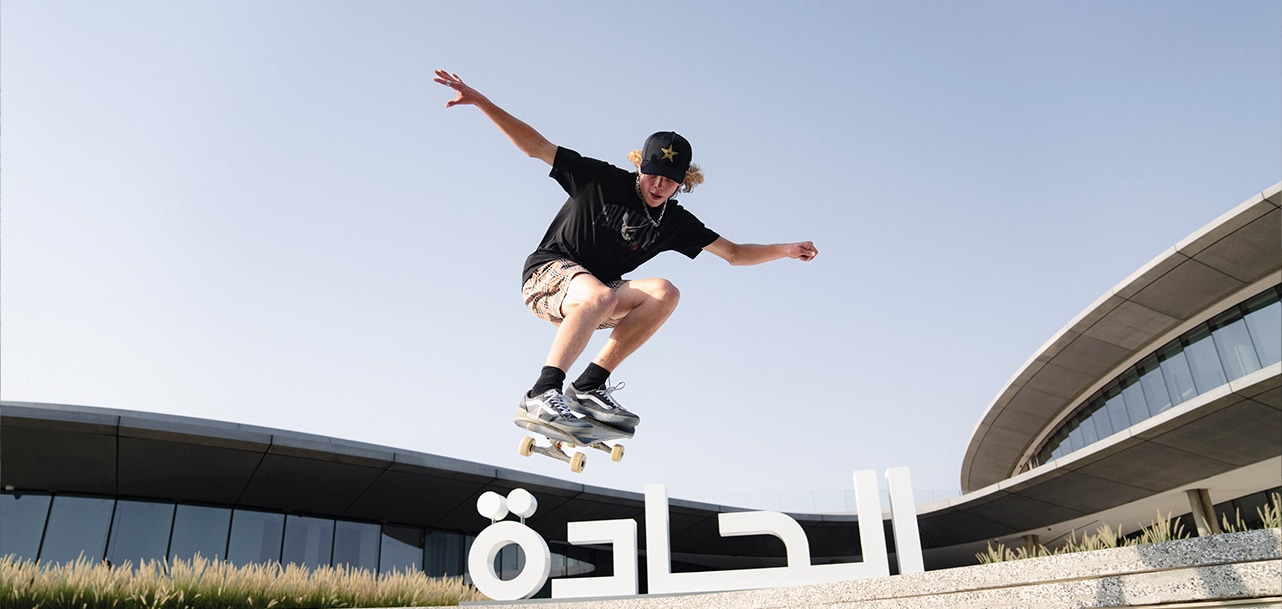 Since its professional phase opened in 2022, the skate park has quickly become a major attraction for hundreds of skateboarding enthusiasts from across the UAE, who participate in weekly skating competitions. It is a central feature in Madar, the Aljada community's entertainment district, which has been designed by Zaha Hadid Architects.
Earlier this year, Aljada Skate Park hosted the 2022 Street and Park World Championships, co-organised by global governing body World Skate and Arada. The events, which are qualifiers for the 2024 Olympic Games in Paris, saw a record-breaking 468 skaters from around the world take part.
Aged just 18, Keegan Palmer won the first ever gold medal for park skateboarding at the Tokyo Summer Olympic Games, held in 2021.
Keegan turned professional aged 14 and is currently ranked eighth in the World Skate male park rankings. His skateboarding skills have already earned him an Order of Australia Medal.