Arada teams up with students at American University of Sharjah to design façades for infrastructure at Aljada
News:
10 August 2023
Research-based, student design studio Thick Skins was sponsored by Arada
Collaboration provides students with practical, hands-on learning expertise linking academia with industry partners
The project centred on designing new cladding for a SEWA substation
Arada and American University of Sharjah (AUS) have completed their latest collaboration, which saw students from one of the Gulf's top architectural programmes design a series of façade prototypes for the cladding of a substation at the Aljada megaproject in Muweileh.
Sponsored by master developer Arada, the Thick Skins design studio was a partnership between academic and industry partners that afforded students an important learning experience regarding architectural practice including concept design, site analysis, design development, and coordination with consultants.
Taught by Associate Professor of Architecture Jason Carlow, a group of 18 students in their final year of studies at AUS' College of Architecture, Art and Design (CAAD) researched and designed innovative and meticulously detailed cladding systems for the existing substation, which is operated by Sharjah Electricity, Water and Gas Authority (SEWA). The students reviewed real-world benefits in a series of classes taken under the guidance of AUS faculty members and Arada's design and creative teams.
Ahmed Alkhoshaibi, Group CEO of Arada, said: "This collaboration with AUS is in line with Arada's vision of creating open and inviting spaces that are designed for people and cities. Façade design for public infrastructure can play an important role in uplifting cities and this project also represents a great example of Arada's determination to foster creative partnerships with key stakeholders in the local community. We were impressed by the quality of the students' work and look forward to building on this experience by introducing further hands-on initiatives in the near future."
Dr. Varkki Pallathucheril, Dean of CAAD at American University of Sharjah, said: "We are always pleased to work with members of the private sector that are able to offer our students practical experience and skills that will prove invaluable in their future workplaces. We're grateful to Arada for their support and guidance in providing a unique experience that encourages students to successfully tackle the challenges associated with real-life projects."
Designs submitted by the students for the façade, which has a perimeter of 369 metres and a height of 12 metres, adapted global architectural best practices to local conditions, providing a wide range of approaches. These included flexible designs to take into account differing environmental conditions or exposure to the sun, the sustainable use of recycled construction materials, as well as the design of deeper facades designed to integrate structures or offer compelling architectural spaces. As part of the project, students undertook field trips to factories and buildings in Dubai and Abu Dhabi, as well as welcoming Evan Levelle, Principal of UK-based façade consultancy Front, who both presented his own work and reviewed their progress.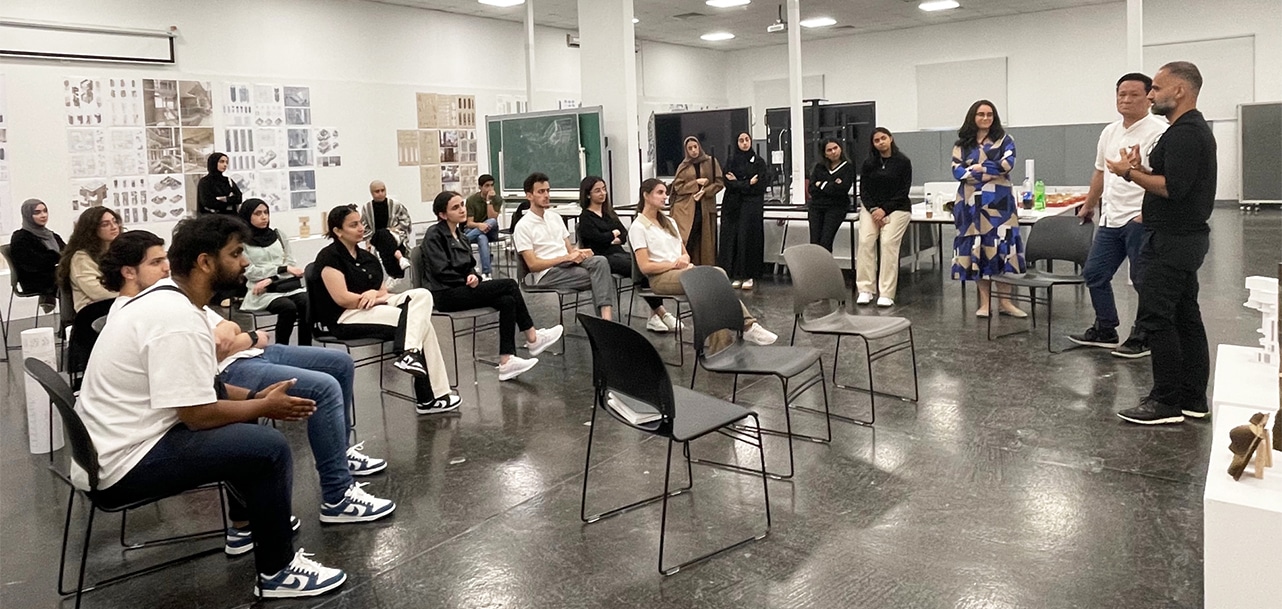 The first review centered on a prototypical towers skin module and was conducted by Huang Lee-Su, Instructional Assistant Professor at the University of Florida's School of Architecture; Elie Mrad, Chief Architectural Officer at Arada; and Melissa Bayik, Senior Creative Director at Arada, while the second review focused on substation presentations and involved John Folan, Professor of Architecture at the University of Arkansas; Sand Helsel, Emeritus Professor at RMIT, and various faculty members from AUS.
The final presentation of the substation by the AUS students to Arada's Group CEO, Ahmed Alkhoshaibi, was held in the presence of senior AUS faculty including CAAD Dean Varkki Pallathucheril; George Katodrytis, Professor of Architecture, and Jason Carlow, Associate Professor, Department of Architecture.
Arada's latest collaboration with AUS follows the completion in 2021 of Al Janah Pavilion, which was designed and built by students from CAAD at Aljada. The pavilion has been dedicated by students to the memory of the late Sheikh Khalid bin Sultan Al Qasimi. Al Janah Pavilion won global acclaim at the American Institute of Architects 2021 Design Awards in the highly competitive Open International category.