Arada honoured for brand excellence at Transform Awards MENA
News:
15 May 2019
Arada has been recognised for its brand development excellence at a major industry event held recently in Dubai.
The Transform Awards MENA, which was attended by over two hundred industry experts, was held at the Habtoor Palace on 7 May. Established in 2009, the awards seek to evaluate exemplary work in brand development and acknowledge the growing significance of brand in strategic corporate communications – developing and sustaining a strong brand is imperative for success.
Arada was praised for its recent corporate brand work in the hotly contested 'Best Use of Copy Style or Tone of Voice' category, where it was presented with a bronze award.
Melissa Bayik, Arada's Head of Brand, was also named a judge at the event, and was present to collect the award on the evening.
"We have really worked to change the perception of Arada away from being a simple bricks-and-mortar developer into a brand that focuses on people and experiences," Bayik said. "Our mission is to transform the spaces where we live, work and play, in the process becoming an enabler of happier, healthier and more sustainable living.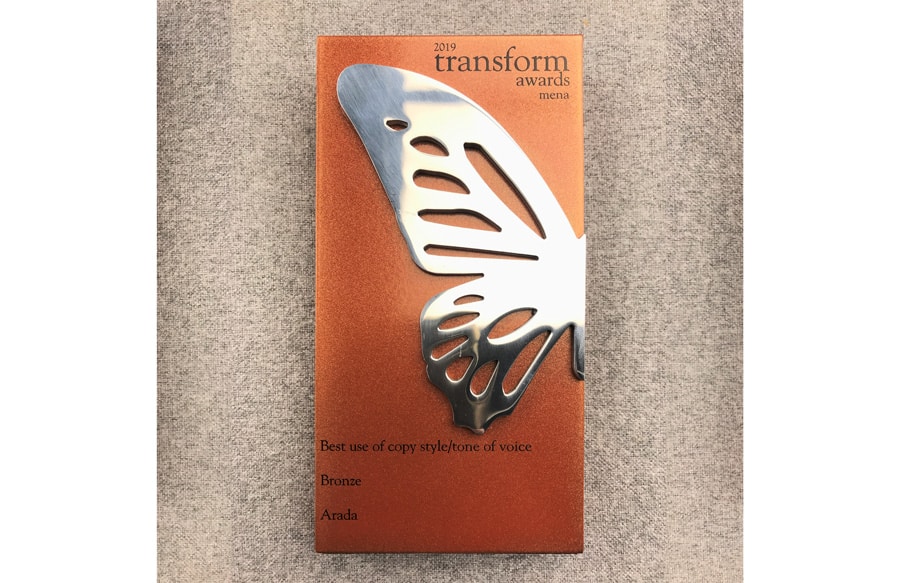 "Our brand language highlights how we at Arada are a progressive and disruptive addition to the developer landscape. It also communicates our ambition and commitment to developing high quality projects, not just in the structural or infrastructure sense, but also in terms of experience and service for the people who live in or visit our developments.
"This external recognition from a major player in this industry really validates the efforts our team have put it, and we look forward to developing this exciting brand still further in the future."
Arada announced its brand evolution in September 2018, which reflects its focus on long-term partnerships, sustainable communities and adding value through services such as its Arada Smart Home technology.
The new brand launch took centre stage during Arada's presence at Cityscape Global, the Middle East's largest real estate showcase, where a stand design that drew inspiration from the brand values, narrative and palette attracted high interest and footfall from buyers, the media and even fellow developers.
During the three-day event, Arada secured an exceptional number of sales, thanks in part to the high visibility of the brand launch, and the exceptional stand design.
Related: