Arada completes over 1,600 new homes in East Village, the third residential phase of Sharjah megaproject Aljada
News:
29 January 2023
Handover process begins for 14 buildings in new urban district
5,700 units now finished as Sharjah's largest ever project passes 20% completion mark
Arada has completed the first homes in East Village, the third residential phase in its AED24 billion Sharjah megaproject Aljada. In total, 1,621 apartments have been finished across 14 buildings.
Featuring 2,000 units in total, East Village is targeted at the younger generation and consists of 16 apartment blocks that are characterised by fresh and bold designs. Residents at East Village will benefit from large green spaces that will play host to regular events, art installations and pop-up retail outlets. Each apartment block has communal areas, with additional space set aside for local facilities, including small shops and cafes.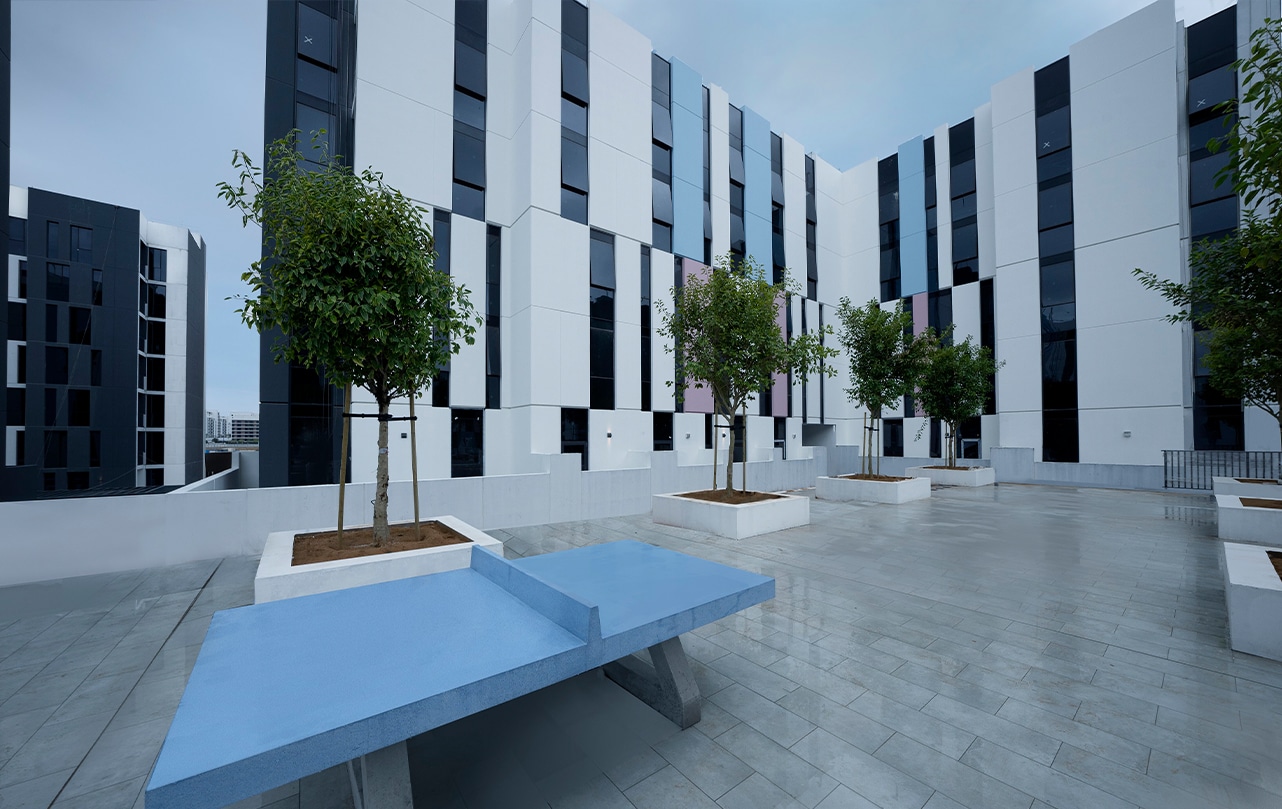 Home inspections will shortly begin at the 968 homes in the Riff 1-3 buildings, the Link 1-3 buildings and the Solo 1-2 buildings – which were completed at the end of last year, bringing the total number of homes finalised at Aljada during 2022 to 3,833. A further 653 homes have just been completed in the Solo 3-4, Link 4-5 and Riff 4-5 buildings, with home inspections due to commence shortly.
Ahmed Alkhoshaibi, Group CEO of Arada, said: "East Village adds a new and vibrant dimension to the Aljada master plan, bringing in thousands of new residents and their families to enjoy a beautifully designed contemporary lifestyle surrounded by premium facilities and green landscaping. We are very grateful to all those buyers that placed their trust in Arada and welcome them to their new homes in this exciting community.
"This year will be another transformative one for Aljada, with more sections of the master plan coming to life in the coming months. Our goal for 2023 is to complete 2,500 homes at Aljada, as well as the second phase of the Madar family entertainment district, which includes Sharjah's largest fitness centre, and we'll also be opening extensive retail and dining spaces in several locations along Aljada's East Boulevard."
East Village is located between the SABIS International School – Aljada (SIS-Aljada), which is fully completed, and Naseej District, a new creative neighbourhood for Sharjah, which contains a world-class cultural centre and makers' district. Also located within walking distance from East Village is the Madar entertainment district and Arada CBD, a modern business district that will serve as the Emirate's new commercial hub.
The completion of the first homes in East Village comes shortly after Arada's announcement in December that all 2,473 fully furnished units in the Nest student housing community had also been finished.
In total, 5,690 homes have now been completed at Aljada, amounting to 20% of the master plan. Another 3,200 homes are currently under construction at the site, where the remaining two buildings at East Village and the three Boulevard buildings will also be completed in the coming weeks.
Spread over a 24 million square foot area, Aljada is Sharjah's largest ever project and a transformational destination for the Emirate.
As well as its numerous residential districts, Aljada also contains extensive retail, hospitality, entertainment, sporting, educational, healthcare components and a business park, all set within a green, walkable master plan.
Related: